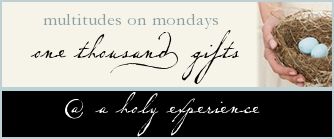 It was a busy, busy, busy weekend…even for us! Andy had basketball games and practices so I stayed at home getting ready for his basketball party on Saturday afternoon. Then, we headed to the St. Paul's faculty party that evening. We got up quite early (4am) on Sunday in order to drive to St. Louis for our newest godson's baptism. It was long drive but an important one to make. After the busy-ness of this Advent weekend, I am giving thanks for…
…over 800 miles safely driven on Sunday. I am thankful to have a husband who drives so willingly!
…two nice Christmas parties, enjoyed by all. It's nice to cross one of our hosting events off the list, too.
…lights put on the Christmas tree by Andy so I could put on the ornaments. It's a system we've seemed to have perfected.
…a festive house that is decorated for the Christmas and Epiphany season. I love sitting by the lights of the trees to read!
…preschool parent presents that are completely finished! I am excited and relieved to have this massive project finished. I'll share what we did (at some point) because these gifts are absolutely adorable!
…only ten days of school remaining until Christmas vacation.
…candy cane cookies that are baked and in the freezer for more of our upcoming parties.
…my junior high handbell choir who played absolutely wonderfully for Advent church last Wednesday. I was so proud of them! I'm also thankful for high school students who step into sub last moment for sick students, so we didn't miss any melody as we played.
…a chance to visit with extended family at Josiah's baptism. It still amazes me that my second cousin is now Andy's best friend. God works in marvelous ways!
…Josiah Paul's baptism as a child of God. We welcome you to the Lord's family, Josiah!
This list numbers blessings 1426 to 1435 on my journey to Two Thousand Gifts.