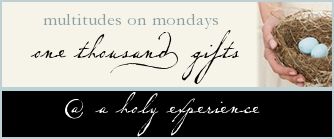 What a week and weekend! It was filled with lots of outings for my husband and I, for which I am quite thankful. I am thankful for…
…a Friday afternoon out with teachers. It is always nice, especially after a long week at school!
…a Friday evening out at the Mad Ants with Andy. It was fun to watch his basketball boys play on the court after the game.
…a couples date night with old college friends.
…Scotch eggs and the lovely memories of the Trotts that they brought back.
…visiting with Andy's grandparents for a nice ending to our weekend.
This list numbers blessings 1236 to 1240 on my journey to One Thousand Gifts.