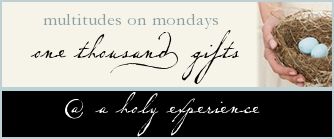 It's a 3 day weekend and I am thrilled. It's nice to have a change of pace. I am thankful for…
…an almost ideal Valentine's party with my 3 year old class.
…a great day for one of my challenging preschoolers. He and I both needed that!
…a steady stream of visitors at our Open House for Ascension on Sunday.
…classes that are almost full for next year. Already!
…a great teacher team to transition our students from Preschool to Kindergarten to First Grade. I am so thankful to work with these ladies!
…a change of pace with a long weekend.
…safe flights for my parents to Okinawa.
…precious memories of my time in Okinawa.
…welcoming home my husband after a weekend away for a basketball tournament.
…my sister Mikaela Anne's birthday tomorrow. Happy birthday, sister dear!
This list numbers blessings 1241 to 1250 on my journey to Two Thousand Gifts.