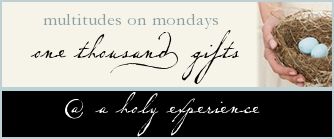 Let me start by saying that I have the day off and am I incredibly thankful for that. Not only for my sake, but mainly for my husband, who has been busy hosting, running and coordinating a basketball tournament for the past weekend. It's time for him – and me – to catch up on everything else.
I have such exciting plans for today. I finished the laundry yesterday, so I have plans to read, menu plan and grocery shop. I have a long 12 hour day ahead of me tomorrow with teaching 3 year olds and music as well as 4 piano lessons, and conducting over a dozen parent-teaching conferences. Since I won't have much time to breath tomorrow, I'm going to rest up today! That works, right?
This week, I am thankful for…
…a day off of school, even as I do hope for one snow day at some point.
…a new stack of books to read. I've read 10 books in the past 20 days, so am off to a great start of my 2013 reading plan! My latest recommendation? The Kitchen Counter Cooking School by Kathleen Flinn was inspiring.
…a house that protects me from the cold and blustery winds outside.
…preschool progress reports that are finished – and conferences that are scheduled.
…supportive parents that are truly eager to meet with me and discuss the progress of their children.
…a choir that sang beautiful and clearly about the value of life.
…Grandpa and Grandma Schiffli's wedding anniversary of 65 years.
…8 grandparents that are still alive and married, as they were at the beginning of Andy's and my marriage almost 4 years ago.
…sales, bargains and the excitement that frugal living brings.
…life. My life. All life.
This list numbers blessings 1211 to 1220 on my journey to One Thousand Gifts.