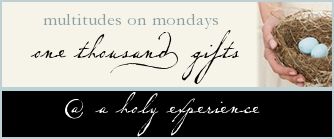 Advent begins this week so I am giving thanks for the waiting. It's easy for me to wait (many times) so Advent is a good time for me. It's a time to remember why we wait. As I wait, I give thanks.
I give thanks for…
…the 60th anniversary of my Grandpa and Grandma Lehenbauer.
…faithful marriage examples in all four sets of our grandparents.
…a half day that allowed me to celebrate with my grandparents, uncles and mother.
…a chance (however brief) to see my Mom.
…students who are excited about singing.
…opportunities for my junior high students to sing under a talented director – even if it means more work for me.
…an enjoyable evening of transposing cello music. Sometimes, I forget how much I enjoy other aspects of my music director job. It was nice to use Finale again, too.
…seeing how excited my piano students are to play their Christmas songs. Only two weeks until our recital!
…the beginnings of Christmas decorations going up – and the freeing realization that I don't have to do it all at once.
…fifteen (busy) days of school left until Christmas vacation.
This list numbers blessings 1156 to 1165 on my journey to One Thousand Gifts.