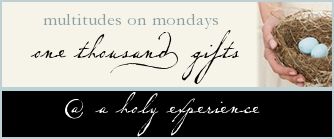 On one hand, it's been a busy school year. On the other hand, the weeks are flying by so quickly. There is much to say, but sometimes, the moments of quietness are nice too.
I am thankful for…
…lunch with grown-ups. Eating with my preschoolers is entertaining, but I managed to grab a quick 10 minutes with the other teachers this week. I needed those moments of adult conversation – especially on that day.
…a quiet and relaxed Friday, with only preschool in session.
…laughing with new friends.
…quiet birthday celebrations for my husband with his family.
…a cool Fall that has officially begun.
This list numbers blessings 1120 to 1125 on my journey to One Thousand Gifts.