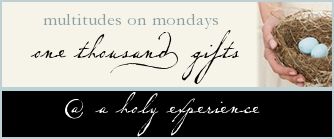 I know school has just started but a day off from school is always appreciated. I fell asleep at 9:30 last night, I was so tired. It was lovely. Now, I sit here, refreshed on this Labor Day morning and ponder.
I am thankful for…
…a good night's sleep and a husband who doesn't begrudge me an early night to bed.
…students who are settling into routines.
…moments to talk with other teachers after school in the hallways.
…Grabill Fair that is just three days away!
…sitting on the porch and visiting with Andy's grandparents.
…safe travels for my sister's family, as they finally made it home to Okinawa.
…time spent quietly in the kitchen baking. Homemade bread does make better sandwiches and toast!
…lunch and dinner with my in-laws and sister-in-law.
…a four day school week this week.
…a day with empty hours ready to be spent reading another new book.
This list numbers blessings 1101 to 1110 on my journey to One Thousand Gifts.