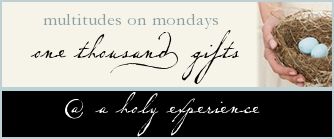 It's hard to believe this week is the final week of Advent already! I hope these last couple of days slow down a bit. I'm going to try and slow down my life to savor all these moments.
This week, I am thankful for…
…a full balcony of 100 school children singing for our CHRISTmas service.
…100 school aged children who have learned to watch me for cues.
…a clavinova where I can prerecord my playing so I can actually direct my students as they sing.
…reading notes from my third graders who list their favorite hymns as "Infant Holy, Infant Lowly" and "The Angel Gabriel from Heaven Came."
…a talented organist in Ruth who accompanied the rest of the children's service.
…our first ever piano recital. We had some nervous students but I was very proud of how well everyone played!
…packages that have arrived in the mail. Thanks, Mom and Joel!
…a fun Schiffli family CHRISTmas get-together.
…blue rays and blue tooth capabilities.
…my sister and sister-in-law who are home safely from college.
…student gifts for their parents that are finished.
…a chance to visit at long last (and again) with my friend Katie.
…a long overdue phone call with my dear friend Rachel. We are great at month long games of phone tag, so I am indeed thankful for these conversations!
…three days of school left until vacation.
…drawing nearer, day by day, to the manger of Bethlehem.
May your final week of Advent be full of thankfulness and joy as well!
This list numbers items 901 to  915 on my Journey to One Thousand Gifts.